Roger Bernat en Pierre Sauvageot brengen beiden een eigen interpretatie van Le Sacre du Printemps, de wereldberoemde compositie van Igor Stravinsky die precies honderd jaar geleden zijn première beleefde in Parijs. Dat moment staat te boek als een van de meest roerige uit de theatergeschiedenis. Kunnen we op Oerol nog wat opschudding verwachten?
Uit de grond gerukte pollen helmgras die door de lucht vliegen, publiek dat elkaar woedend met Nordic Walking-stokken en zwiepende Gaastra-jassen te lijf gaat, en een cordon ME-ers dat in moet grijpen om gemoederen te bedaren. Het had zomaar een tafereel kunnen zijn in de duinen van Terschelling, als Oerol honderd jaar geleden al had bestaan. Een schril contrast met het brave festivalritueel nu: het publiek kijkt een voorstelling meestal helemaal uit, applaudisseert (vaker met staande ovatie dan zonder) en laat zijn eventuele afkeer hooguit na afloop blijken, in keurige bewoordingen.
Kan kunst nog wel shockeren? Componist Pierre Sauvageot, die in de haven zijn nieuwe Sacre du Printemps laat horen, denkt inderdaad dat het voor de kunsten tegenwoordig lastig is de wereld op zijn grondvesten te laten trillen: "Ik zou het wel willen, maar kunst heeft een minder belangrijke positie in de samenleving dan honderd jaar geleden. Veel kunst is op elkaar gaan lijken, en dat geldt vooral voor de klassieke en populaire muziek. Het publiek weet precies wat het kan verwachten als het naar een concert gaat. Zeker de klassieke muziek is eigenlijk helemaal klaar. Ik vraag me dan steeds af: waar is de krachtige ervaring die muziek kan hebben? In een tijd waarin muziek altijd en overal om ons heen is, ga ik daarnaar op zoek. Het gaat om echt luisteren en samen iets meemaken. Soms moet het juist om hele kleine geluiden gaan, zoals bij Harmonic Fields in 2011. Nu probeer ik door de locatie en mijn bewerking een portret te maken van onze samenleving."
De Sacre du Printemps is inmiddels van schandaalstuk verworden tot standaardrepertoire. "Het is een soort heiligdom geworden dat niemand durft te veranderen… behalve ik," zegt Sauvageot met een ondeugende blik. "Puristen zullen het vreselijk vinden, maar ik heb voor mijn Sacre de partituur van het stuk genomen en alle westerse instrumenten eruit gegooid en ze vervangen door andere geluiden die heel ver van het origineel staan. Ik gebruik veel omgevingsgeluiden die met reizen te maken hebben, maar ook radiofrequenties, dieren en instrumenten uit Azië en Afrika. Ik heb het stuk eigenlijk bewerkt zoals Andy Warhol Monroe in een nieuw daglicht zette. Ik geef een ode aan Stravinsky's werk juist door het te veranderen."
Sauvageot liet het verhaal van het ballet Le Sacre du Printemps buiten beschouwing. "Ik vind het verhaal niet zo interessant, het is voor mij te links-rechts." Bij The Rite of Spring van Spanjaard Roger Bernat speelt het verhaal juist een grote rol en staat de muziek minder centraal. Bernat baseert zijn voorstelling op de balletversie van Pina Bausch, die in 1975 een revolutionaire nieuwe choreografie op het stuk maakte. "In het verhaal wordt een maagd geofferd aan een zonnegod. Haar bloed is nodig om het land weer vruchtbaar te maken. De Sacre gaat eigenlijk over de relatie van onszelf met de mensen om ons heen. Het oncomfortabele gevoel iemand in een groep te moeten offeren, dat fascineert mij enorm."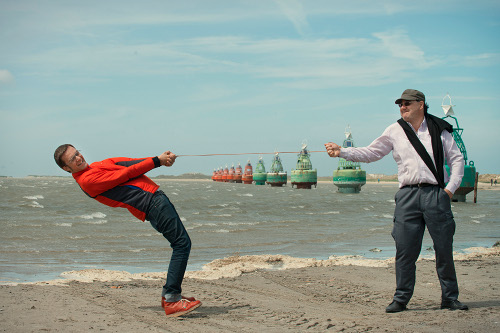 (Roger Bernard & Pierre Sauvageot. foto: Geert Snoeijer)
In zijn Sacre speelt Bernat met de conventies in het theater en de kunst. "Het mag allemaal niet te makkelijk worden", zegt de Catalaan stellig. "Mensen zijn zo gewend om eendimensionaal naar voorstellingen te kijken. Relaxed zittend op een stoel en dan een voorstelling over je heen laten komen. Ik vind het vreemd dat het vrijwel altijd zo gaat. Het lijkt wel of de bezoekers hun lichaam zijn vergeten. Dat zie je eigenlijk overal in onze samenleving: je zit op kantoor achter je scherm of je laat je lichaam gedachteloos handelingen uitvoeren. Ik wil dat doorbreken door de ruimte, het publiek en hun lichaam anders te benaderen."
De Sacre van Bernat zal bij sommige bezoekers misschien licht ongemakkelijke gevoelens oproepen, maar het lijkt er niet op dat mensen van zijn werk zo ondersteboven zullen zijn als bij die beroemde première van honderd jaar geleden. "Theater is als kunstvorm misschien niet meer zo belangrijk als toen, maar op kleinere schaal is het nog altijd mogelijk zaken ter discussie te stellen. Een paar jaar geleden maakte ik bijvoorbeeld een voorstelling waarin naakte mannen dansten. Dat leverde bij de kranten een discussie op of je naakte mannen wel af kon beelden. Terwijl een ontklede vrouw meteen geplaatst werd."
"Echt shockeren is tegenwoordig meer iets voor de massamedia, maar het is goed om te zien dat het nog altijd kan", weet Bernat. "Kwesties rond religie roepen nog altijd felle reacties op en datzelfde geldt voor zaken als homoseksualiteit, zoals we onlangs in Frankrijk hebben kunnen zien. Natuurlijk, het werkt nu anders dan honderd jaar geleden. Toen zat de hele Parijse elite in dezelfde theaterzaal terwijl de mensen die er nu toe doen veel meer versnipperd zijn. We moeten ook niet vergeten dat we het verhaal van de première in 1913 misschien ook wel een beetje romantiseren. Wellicht werden in die tijd veel vaker premières verstoord, maar kennen we die verhalen nu niet meer omdat het minder indrukwekkende kunstenaars waren. Maar het is duidelijk dat we nu veel meer discipline hebben. Niet alleen in het theater maar overal, dat zie je heel goed in mijn thuisland Spanje. Zelfs nu meer dan de helft van de jongeren werkeloos thuis zit zijn alle demonstraties, als ze er al zijn, braaf vergeleken met die uit de jaren zestig of tachtig."
Roger Bernat – The Rite of Spring. 14 t/m 22 juni, 22.00 en 23.10 uur, Locatie 11 Voetbalveld West – West, € 13
Pierre Sauvageot / Lieux Publics & Cie – Igor Hagard, a Railway Rite. 15 t/m 23 juni, 11.00, 12.00, 13.00, 14.00, 15.00 en 16.00 uur, Locatie 2 Strekdam – West, met entreeband.