Pieter-Bas van Wiechen en Sophie van Leeuwen runnen een bed & breakfast in Oost. Ze hebben een zoontje van acht maanden, Dima. In Het Parool vertellen ze deze zomer twee keer per week over hun belevenissen.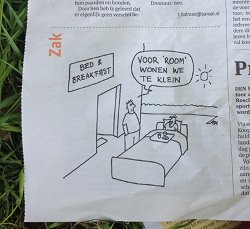 "We hebben Bailey's meegenomen! Heb je ijs?" Een mollig Turks meisje met roze haar trekt onze koelkast open en graait naar ijsblokjes. Ze pakt vier glazen uit een keukenkastje. "Jullie drinken toch wel mee?" We weifelen even, Bailey's hebben we voor het laatst gedronken toen we een jaar of zestien waren en inmiddels staat het drankje al jaren op de zwarte lijst. Maar vooruit, omdat ze zo ongebreideld enthousiast is, accepteren we het aanbod en nippen we voorzichtig aan de mierzoete smurrie.
Helaas! Binnenkort is de rest van dit verhaal weer te lezen in een boek of ergens anders….