Pieter-Bas van Wiechen en Sophie van Leeuwen runnen een bed & breakfast in Oost. Ze hebben een zoontje van negen maanden, Dima. In Het Parool vertellen ze deze zomer twee keer per week over hun belevenissen.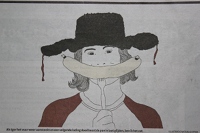 Ik doe de voordeur open en een vette vleeslucht slaat in mijn gezicht. Wat is hier aan de hand? Drie langharige, jonge gasten van een jaar of achttien staan achter ons aanrecht in twee pannen een berg worsten te bakken, ze gebruiken zo te zien een pakje boter per pan. De stank is zo penetrant dat ik het idee krijg dat het vet al van de muren druipt. Bijna begin ik een onbeheerste scheldpartij, maar net op tijd bedenk ik me dat Grote Vladimir, Igor en Kleine Vladimir onze gasten zijn, ze komen uit Sint Petersburg en blijven een week.
In de beschrijving van onze Bee-en-Bee online staat niet dat gasten geen gebruik mogen maken van onze keuken. Ons beleid is: het mag wel maar we stimuleren het niet. Negen van de tien bezoekers vullen er s'ochtends hooguit hun flesje water en verdwijnen dan in de stad. Heel soms vragen mensen besmuikt of ze misschien in onze keuken mogen koken, meestal meteen gevolgd door de vraag of we mee willen eten. Maar deze keer is het anders.
Helaas! Binnenkort is de rest van dit verhaal weer te lezen in een boek of ergens anders….