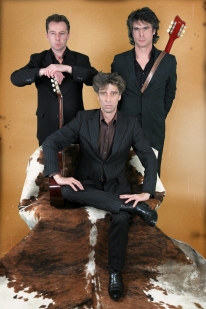 Woensdag was het, na een dag vol ingewikkelde Belgische politiek en de dood van een Belgisch icoon, hoog tijd voor een van de beste zangers uit Nederland. Hij wordt wel de Jacques Brel van de Noordelijke lage landen genoemd. Maar hier in het land van Brel zelf kent vrijwel niemand hem. Zuiderburen: hij heet Maarten van Roozendaal en je moet hem gezien hebben!
Gelukkig zijn wij hier in het zuiden niet de enigen die dat vinden. Ook de jongens van de Vlaamse theaterhit Kommil Foo zijn fan. Dus hebben ze Maarten uitgenodigd tijdens hun week Carte Blanche in Leuven. Erop af dachten wij want zijn nieuwe show Het Wilde Westen speelt Maarten hier alleen nog in het dorp Puurs, anders wordt het Breda of een andere stad in het noorden.
Maarten van Roozendaal, ooit van gehoord? Hoofdschuddend kijken de bardames van het Leuvense Wagehuys mij aan. Ook de wachtende Vlaamse bezoekers hadden nog nooit van hem gehoord. Wat ongelovig kijken ze mij aan als ik 'Nederlandse Jacques Brel' en 'Volle Zalen in Nederland' laat vallen. Om ons heen horen we redelijk wat noordelijk Nederlands maar vlak voor aanvang stromen er gelukkig ook Vlamingen binnen.
We gaan de zaal binnen en verwachten nieuw werk van Maarten. Als hij opkomt schalt echter meteen 'Red mij niet', een van zijn grootste 'hits' door de zaal. Maarten zit alleen achter de vleugel en op het podium is geen spoor van zijn bassist en trouwe partner Egon Kracht te vinden. Even later komt wel zijn nieuwe theatergezel Marcel de Groot het podium op. Met zijn tweeën presenteren ze de Leuvenaars een doorsnee van het rijke repertoire van van Roozendaal.
Het is spannend, want iedereen die Van Roozendaal volgt, weet dat zijn voorstellingen bijna helemaal uit nieuw materiaal bestaan. Speciaal voor Kommil Foo – of wegens een schnabbel van Egon Kracht – zingt Maarten van Roozendaal in Leuven vooral oud werk. Niet zonder slag of stoot want niet alle teksten van welleer zitten nog goed in zijn hoofd, een deel staat op zelfs blad.
Maar lezend, soms zelfs met leesbril, geeft Maarten de Belgen wat ze hier in chansonland al lang verdienen: de prachtige liederen van hemzelf. De zaal luistert ademloos en blijkt zelfs de Amsterdamse soms wat directe cynische humor van de Nederlander te brijpen. Het is een bijzondere avond, want zo vaak doet de Nederlandse liedjesboer niet aan een overzicht van zijn werk.
Na afloop probeer ik bij bezoekers en gastheer Raf Walschaerts een verklaring te vinden waarom Van Roozendaal niet – net als Bram Vermeulen – veel in Vlaanderen speelt. Iedereen tast in het duister. 'Dit is heel goed en je kunt hem zo goed verstaan,' vertrouwd een bezoekster mij toe. 'Een mooie combinatie van humor en schoonheid,' weet een ander. 'Wij spelen met Kommil Foo al jaren in Nederland maar de beste levende liedkunstenaar uit Nederland nooit hier,' zegt Raf. 'Ik weet niet waarom, maar ik hoop dat Maarten nu ook hier doorbreekt. Echt, hij is verschrikkelijk goed! Bovendien zag ik vanavond dat het ook hier werkt.'
Dus Vlamingen, als jullie van de Nederlandse taal houden en als jullie niet begrijpen waarom wij Nederlanders zo weinig naar Jan De Wilde, Jacques Brel, Kris De Bruyne en Raymond van het Groenewoud luisteren. Gaat allen naar Maarten van Roozendaal in Puurs op 26 april. En Nederlanders zie boventaand lijstje plus Kommil Foo. Voor allen in noord en zuid: beter uw leven kijk over de grens. Echt: u zult vaak denken: 'Dit is zo mooi, het is om te janken zo mooi.'