Harpmeisjes. Als je niet uitkijkt doemen er beelden op van elfjes, mierzoete sprookjes en foto's met overdadig veel soft-focus. Maar gelukkig is er nu Lavinia Meijer, die de harp zonder pardon uit het roze hoekje haalt.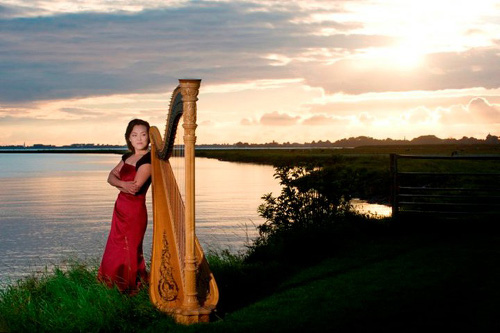 foto: Geert Snoeijer
Jazzpianist Michiel Borstlap, Gare du Nord of het Koninklijk Concertgebouworkest: voor Lavinia Meijer lijkt geen enkele combinatie onmogelijk. Overal sleurt ze haar harp heen om te spelen. "Het is mijn missie om telkens bruggen te bouwen om zo mijn repertoire en mijn publiek te verbreden. Ik zoek steeds naar muziek die het publiek kan waarderen en probeer dat te combineren met repertoire dat ze niet kennen," vertelt Lavinia vanaf de boot. "Mijn instrument, de harp, geeft daarbij veel vrijheid. Want als ik piano of viool zou spelen, dan is het repertoire veel bekender en dan komt het publiek al snel met allerhande verzoeknummers."
"Op Oerol speel ik werk van Philip Glass en Ludovico Einaudi," vertelt de harpiste. "Beide componisten hebben ook voor film gecomponeerd, waardoor hun muziek heel beeldend is. Dat past goed bij theater." Tijdens haar optreden zal ze ook een bewerking van Radiohead spelen. Het is de eerste keer dat Lavinia Meijer Oerol aandoet: "Na alle verhalen die ik er al over hoorde heb ik er ongelofelijk veel zin in. Het is fantastisch om op een festival te mogen spelen waar zoveel verschillende genres aan bod komen. En buiten spelen met alle natuurgeluiden is altijd een uitdaging!"
Heeft Lavinia voor avonturen als Oerol inmiddels een speciale rock-n-roll- en buitenharp? "Hahaha, nee, het moet gewoon droog blijven. Onlangs heb ik in Rotterdam ook een openluchtconcert gegeven waar exact na mijn laatste noot een onweersbui losbarstte. Ik kon mijn harp toen nog net op tijd de droogte in trekken."
Lavinia Meijer. 15 juni, 15.30 en 19.30, Bostheater – Midden, € 11; 16 juni 13.30, De Betonning – West.