In het buitenland heb ik meermaals met het schaamrood op de kaken proberen uit te leggen dat wij een "Party for the Animals" in ons parlement hebben zitten. Geen grap, nee echt. Ik ben geen dierenliefhebber en ook geen vegetariër. Hoog tijd om mezelf voor te stellen een koe te zijn.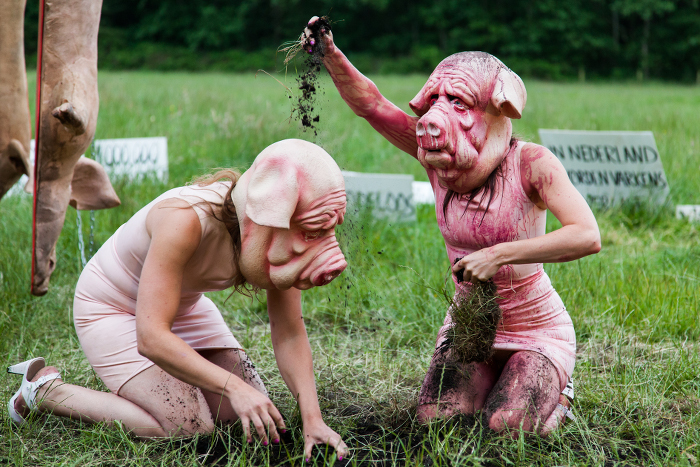 foto: Nichon van Glerum
Op Oerol kom ik regelmatig een bezoeker of maker tegen die ik ervan verdenk een biologische kruidentheedrinkende geneeskrachtige stenen leggende vegetariër te zijn. Van die mensen die van top tot teen uitstralen dat zo in balans met de natuur, en zichzelf. Ik krijg er maar jeuk van. Maar ik maak het mijzelf graag moeilijk en dus probeer ik op Oerol altijd een lekker tegen de haren in strijkende voorstelling op te bezoeken. Dit jaar was het niet moeilijk want in oost wordt een pleidooi voor een leven zonder vlees gehouden. Ik besluit te gaan en mezelf na afloop te trakteren op een lekkere shoarma. Lekker puh.
In het Hoornse bos storten de actrices Lotte Dunselman en Anna Schoen een bak bloederige varkens en harde bio-industrie data over het publiek uit. Ik voel hoe het om mij heen steeds stiller wordt. Ze schetsen beelden van miniscule hokjes vol uitwerpselen en te kleine varkens die doodgeslagen worden. Ik slik, een-twee-drie keer, steeds vaker. Ik heb geen zin meer in shoarma.
Na afloop van de voorstelling voel ik frisse tegenzin om de twee actrices die mij een heerlijke shoarma hebben ontnomen te ontmoeten. Dus jullie vinden dat ik vegetarier met worden, mompel ik. "Nee hoor!" zeggen de twee dames in koor. "Wij zijn het zelf ook niet, al eten we door deze voorstelling wel een stuk minder vlees. Het is vooral de bedoeling dat mensen erover na gaan denken."
Potjandrie wat een toptheater!
TgECHO – Stel je bent een koe. 18 t/m 21 juni 19.00 en 21.15 uur, lokatie 30 Cupido's Plak – oost, E13