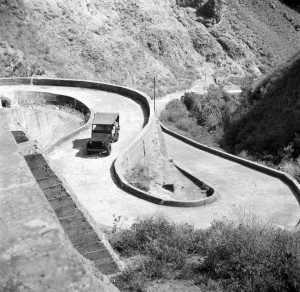 De bewoners van Saba, sinds 2010 het hoogste punt van Nederland,  verplaatsten zich eeuwenlang via geitenpaden en trappen over hun onherbergzame, geïsoleerde rots in de Caribische zee. Het was een zwaar leven waarbij menigeen droomde van een weg.
"Onmogelijk!" riepen, volgens de overlevering, ingenieurs die het eiland bezochten steevast. Na wat hulp van Curacao kreeg het eiland in de jaren dertig toch een serieuze haven en een klein stukje weg. Maar de Sabanen wilden meer.
Onder leiding van de lokale aannemer en handelaar Lambert Hassell namen de eilanders het heft in eigen handen en bouwden de weg die niet gebouwd kon worden.
De bouw van het negen kilometer lange gevaarte veranderde het leven van de Sabanen voorgoed. Pieter-Bas van Wiechen bezocht de helden van de weg op Saba en maakte een radiodocumentaire voor OVT.
Luister hier naar de documentaire (uitgezonden op 20 september 2015, Ovt Vpro Radio 1)
Documentaire van Pieter-Bas van Wiechen i.s.m. Sophie van Leeuwen. Techniek: Berry Kamer. Met dank aan: Will Johnson, Carmen Simmons, Andrew Martin, Richie Johnson, Rita Johnson, Cyrrill Hassel , Peddy Johnson, Kai Wulf, Jelle van der Velde, Bastiaan Janssens, Angelita Peterson, Peter Johnson, Lorna Simmons, Karel Sorton, Paul Cizek, The Occasionals, Budu Banton, Saba Conservation Foundation, Honourable Henry Every Home, het Ministerie van Koninkrijksrelaties, the heroes who work on the road today and all Sabans who gave me a ride!.
Extra: een kort filmpje van The Road in historisch volgorde: van de haven naar het vliegveld.