Schaars geklede lichamen in een smetteloos wit decor. We krijgen een inkijkje in de kleedkamer van de Needcompany, het gezelschap dat Hertenhuis speelt, deel drie van Jan Lauwers trilogie Sad Face / Happy Face over menselijkheid. Het gaat er aan toe zoals vaak: de spelers actreutelen en friemelen aan elkaar. Ondertussen heeft iedereen last van zijn of haar eigen vorm van exhibitionisme. De een in woorden, de ander door een van zijn typetjes tevoorschijn te halen en de derde door met zo min mogelijk kleren aan te lopen. Dan ineens komt het nieuws dat de hele voorstelling zal bepalen: fotojournalist Tijen Lawton de broer van danseres Kerem Lawton blijkt te zijn omgekomen in Kosovo.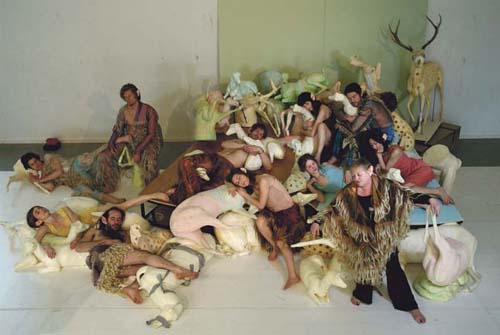 Hertenhuis van de Needcompany en Jan Lauwers zoog ons journalisten op twee manieren het stuk in. De dood van een vakgenoot grijpt je natuurlijk altijd aan. Elke verslaggever heeft wel eens nagedacht over het fenomeen oorlogsjournalistiek. Niet alleen of je dat durft maar ook over de vraag of een verhaal waar is en wat dat dan is. Juist in conflictgebieden speelt deze vraag alleen maar meer op. Over de maakbaarheid van verhalen ging het tweede deel. Als een beter theatermaakproces uit de late jaren zestig nam de cast voor ons de verschillende verlopen van het verhaal door. Hertenhuis werd een collectieve voorstelling. Zelfs de doden kwamen tot leven voor een snelle reactie op verhaal en hun visie.
In het derde luik zijn we eindelijk bij de voorstelling aanbeland. De spelers zijn eruit en hebben hun eigen, haast sinistere, waarheid gecreëerd. Ondanks de vele moorden die tijdens de tweede helft gepleegd werden ontstaat er een bijna sektarische eenheid. Vol vreugde worden de acteurs nog betere dansers en de dansers nog beter spelers. Ze verleiden je om mee te gaan in hun vreugde. Maar kun je hierin meegaan? Of kies je dan voor een te makkelijk eenduidig verhaal? Hertenhuis zette ons voor de spiegel in een prachtige vertelling, het deed ons weer eens denken aan het 'net menselijke dilemma' van Joris Luyendijk.
Wij zagen Hertenhuis in het Kaaitheater te Brussel en wie de voorstelling nog wil zien moet (helaas) naar Antwerpen of Zürich.