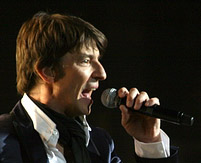 Clouseau dat is zo 1991! Mooi niet. In Vlaanderen (het Nederlandstalige deel van België) is de band nog altijd hot. Vrijdagavond trapte de broertjes Wauters hun jaarlijkse serie stadionconcerten in het Antwerpse Sportpaleis af. Maarliefst 120.000 Vlamingen (en dat is een op vijftig…) zullen de komende weken hun weg naar de betonnen kolos ten noorden van de Belgische havenstad vinden. Wij gaan ook, ik omdat het moet, Sophie om haar oude kalverliefde te bekijken.
Het is half acht als wij vergezeld door de geur van wafels, bier en vettigheid het Sportpaleis binnenwandelen. Al snel wordt het duidelijk dat een concert van Clouseau geen bakvissen aangelegenheid meer is. Nee, het is nationaal familievermaak a la de Notenkraker, de musical Annie of een dagje Efteling. Bejaarden, kinderen en jeugd ze zijn er allemaal. De clubjes vriendinnen al dan niet gevolgd door plichtmatig achteraan sjokkkende mannen, vormen nog steeds het grootste deel van het publiek. De meeste van hen zijn intussen dertiger.
Wij behoren tot de gelukkigen en mogen vooraf naar de genodigden en perszaal. Met een biertje in de hand staan wij, met talloze andere mediatypes, in een zaaltje backstage. Hoeveel BV-ers zouden hier vanavond zijn? In ieder geval zijn het er minder dan mensen die ze zoeken op deze plek. Het lijkt wel alsof Clouseau voor het eerst in twintig jaar het podium weer opkruipt, terwijl ze het toch al negen jaar doen, die decembershows in het Sportpaleis.
We gaan naar de hal. Om 20.31 dimt het zaallicht en er klinkt een oorverdovend gegil door het sportpaleis. Gehuld in een glimmend strak pak en een gelikt overhemd komt Koen Wauters alleen het podium op. Hij zingt zonder band en krijgt direct hulp van minstens driekwart van de twaalfduizend aanwezige kelen. Koen, ooit de meest begeerde man van de Lage Landen, ziet er na al die jaren nog best goed geconserveerd uit.
Langzaam wordt het groter, eerst krijgt Koen gezelschap van zijn broertje Kris dan breidt de band zich steeds verder uit, de de zaal vult zich met licht. Kosten nog moeite lijken gespaard. Tegen het einde van de show vliegt Wauters op een brug het sportpaleis rond en brengt zo moeiteloos ook de achterste rijen in beroering.
Die beroering is terecht want Clouseau zet een strakke, indrukwekkende show neer. Toch bekruipt ons het gevoel dat band eigenlijk nog steeds hetzelfde doet als in de jaren negentig: de stijl van de nummers, de thema's, the looks, de meisjes. In alles zijn de jaren te zien, in lichaamsomvang van het publiek en beginnende rimpeltjes, maar voor de rest lijkt er weinig veranderd.
De show heeft als titel Crescendo en je krijgt precies wat je daarbij als eerste gedachte hebt, Koen begint alleen en eindigt met big band. Weinig verassend, in interviews had Wauters bovendien eigenlijk al precies gezegd wat ze zouden gaan doen. En dat is eigenlijk een beetje jammer: het is allemaal zo risicoloos en zo uitleggerig dat ze je aandacht niet vasthouden.
'Anne, als ik jou zien ben ik niet meer bij te sturen…', 'Vanavond ga ik uit' en 'Domino.' We blijken, als Nederlanders, meer te kennen dan we dachten. We hopen nog even op de grootste hit van Clouseau in Nederland. Maar die blijft uit. We krijgen hem niet, want tja: voor Clouseau is 'Daar gaat ze' zo 1990 dat je dat niet meer speelt.
Luister hieronder naar mijn live-verslag vanuit het Sportpaleis in BNN Today op Radio 1:
[audio:http://www.levenoppluto.nl/audio/20081205_BNNtoday_ExitHolland_Clouseau.mp3]