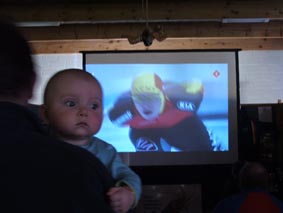 Wat doe je als Nederlander en schaatsfanaat als je net naar België bent verhuisd? Je kunt natuurlijk thuis voor de buis gaan zitten. Wij vonden het leuker om het Europees Kampioenschap te volgen bij enige echte "Snelschaats" vereniging van België in Lommel. De vereniging vierde zaterdag haar twintigjarig bestaan en volgde bij die gelegenheid de verrichtingen van de Belgische schaatshoop sinds Bart Veldkamp: Kris Schildermans.
In de kantine van Luna's ijstadion in Lommel lopen we direct in de armen van mevrouw Schildermans, de voorzitter van de Noord-Limburgse Snelschaatsvereniging (NLSV). En het vermoeden bij het horen van deze naam is waar: mevrouw Schildermans is ook de moeder van Kris. "Ik ben een beetje zenuwachtig," vertrouwt ze ons toe. "Vanochtend heeft Kris op de 500 meter al een persoonlijk record gereden en zodirect staat zijn favoriete afstand de 5 kilometer op het programma." Een persoonlijk record zal er op deze afstand niet inzitten want dat staat scherp: 6.35,56 gereden op het olympische ijs van Calgary.
Dan is het moment aangebroken, zo'n twintig mensen zoeken een stoeltje voor het scherm en wachten in spanning af hoe hard Kris zal rijden. Mamma Schildermans zwaait naar haar zoon op het beeldscherm. "Go to the start, Ready" en met een knal wordt Kris weggeschoten. De NOS-commentatoren Herbert Dijkstra en Martin Hersman denken veel te weten over Kris en een groot deel wat ze zeggen is waar: Kris is 24, traint met de Zweedse ploeg in Berlijn en is officieel in dienst van het Belgische leger. Alleen hun beeld van de festiviteiten in het thuisdorp van Kris blijkt wat overtrokken, wel vier keer roepen ze dat in Lommel de biertjes nu openschieten en dat de polonaise daar is begonnen.
In de kantine van Luna's IJsstadion leven de Belgische schaatsers wel mee met hun held, maar om nu te zeggen dat het hier carnaval is… Enigszins bedeesd wordt Kris gevolgd. Mama Schildermans wrijft in haar handen en schuift wat onrustig op haar stoel. "Hij rijdt vlak," mompelt ze met een onvervalst Vlaamse tongval. "Alweer een rondje 32, mooi!" Kris rijdt 6.50,29 een tijd die goed is voor een 26ste plaats. Mama Schildermans kan opgelucht ademhalen, Kris heeft de streep gehaald en werd niet gediskwalificeerd zoals vorig jaar.
Na de rit van Kris wordt de rest van het EK niet echt gevolgd. Jonge leden van de vereniging zitten in de ballenbak terwijl de ouderen aan tafel herinneringen op halen. Zelfs het EK op het grote scherm maakt al snel plaats voor home video's van de club. Beelden van de elfstedentocht in 1997, talloze malen Weissensee en kinderwedstrijden zijn leuker dan Sven Kramer. En wat Kris Schildermans betreft, hopen alle leden dat hij zijn doel zal halen: meedoen aan de Olympische Spelen van Vancouver in 2010.