Zodra het kwik onder nul zakt krijg ik als ollander natuurlijk last van koorts, ijskoorts. Mijn schaatsen had ik uit voorzorg al meegonomen naar Brussel, nu moest ik nog een plek vinden waar ijs lag. Een beetje speurwerk op het net brachten mij naar de ijsverwachting site van Gert Coone. Ik mailde hem en hij kon mij vertellen dat er ijs lag op de Kraenepoel in Bellem bij Aalter.
Vol goede sprong ik zondag op de trein. De hunkering naar natuurijs maakt altijd een vreemde soort obsessie in mij los. Als een ijsmeester kijk ik uit het raam. Elk meertje, zelfs slootjes van enkele centimeters breed worden gekeurd. Of je er op kunt schaatsen of niet. Het is om zenuwachtig van te worden. Ik zie bijna nergens ijs. Zou ik dan helemaal voor niets naar Oost-Vlaanderen aan het treinen zijn?
Ik stap uit in station Belllem en loop het natuurgebied in op weg naar De Kraenepoel. Na een kilometer hoor ik eindelijk de verlossende klanken: ijzers die snerpend over het ijs gaan en mensen die plezier hebben. Ik doe mijn best de laatste honderden meters niet huppelend af te leggen.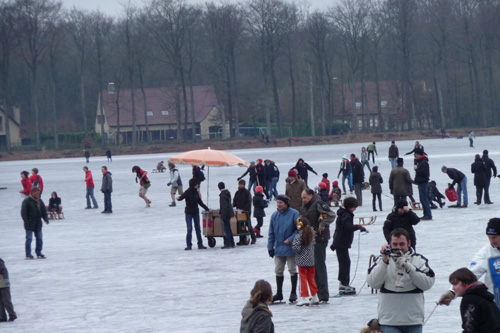 Aan de kant van de poel doe ik mijn noren aan. 'Ik zal die Belgen een een poepie laten ruiken,' denk ik lichtelijk overmoedig. Tot ik een jaar of vijftien was schaatste ik met de Bredase schaatsvereniging Ballangrud elke week op de ijsbaan in Eindhoven en ik was vrij goed.
Ik sta op en worstel mij, mijn slag zoekend, door de eerste meters ijs. Er ligt zand op. Om mij heen staan ook veel mensen met schoenen op het ijs, iets waarover de Nederlander over het algemeen zeer intollerant is. Als ik de schoenenterroristen achter me gelaten heb wordt het ijs snel beter. Fantastisch zelfs. Mijn ijzers snerpen over de zwarte vloer bevroren water. Om mij heen kraakt het en zo nu en dan hoor ik de prachtige klank van een onder mij voorbij schietende luchtbel.
'Ik kan het nog!' denk ik terwijl ik mijn eerste bochtje afwerk. Trots zwier ik over de poel in de hoop dat de Belgen mij zullen herkennen als een Nederlandse crack. Dan hoor ik achter me ineens het tikken en klikken van klapmechanismen. Met een enorme vaart haalt een treintje snelheidduivels mij in op klapschaatsen. Henk Angenenent op Kraenepoel? Hoop ik heel even. Maar ik hoor de twee praten in dat o zo vreemde, maar soms bijkans onverstaanbare, West-Vlaams. Op hun pakken staat dat ze van de Lange Baan en Snelschaatsclub Gent zijn.
De heren halen me talloze malen in en ik zing in mijn hoofd al snel een toontje lager: er zijn heus wel Belgen die goed kunnen schaatsen. Het valt mij sowieso op dat veel mensen op de poel snelschaatsen (Vlaams voor Noren) hebben. Ik geef op de beste te willen zijn en geniet vooral terwijl ik de IJswals van Fien de la Mar neurie. Drie en een half uur houd ik het vol, dan wil mijn lichaam nog meer maar geven mijn enkels het op.
Hier een filmpje:
[youtube]http://www.youtube.com/watch?v=WRXrjDvWrXc[/youtube]