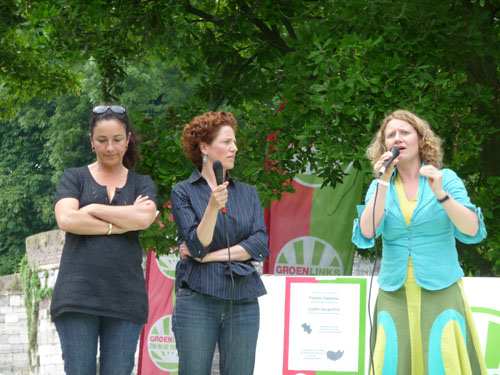 Leven op Pluto is deze dagen op campagne, in Nederland en Belgie. Onze eerste stop was Maastricht. Met groot materieel aan personen streek GroenLinks neer in de Limburgse hoofdstad. Partijleider Femke Halsema, scheidend europarlementariër Kathalijne Buitenweg en nieuwe lijstrekker Judith Sargentini. Na Helmond en Sittard waren ze zichtbaar een beetje uitgeblust in Maastricht. Ook de opkomst viel tegen. Vooral lokaal actieve GroenLinksers waren op de kopstukken afgekomen.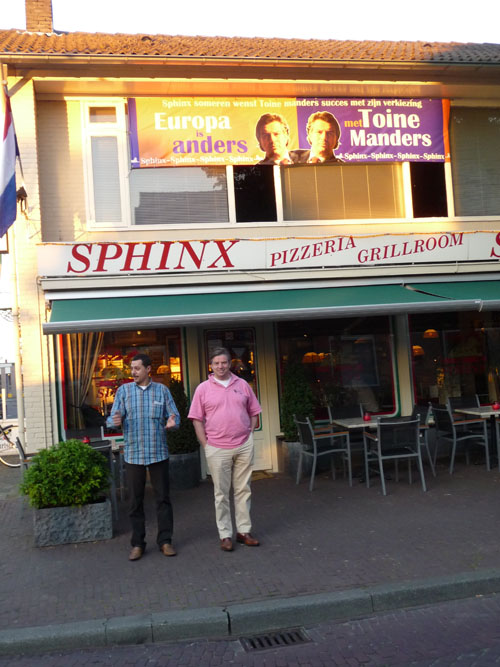 Toine Manders, VVD-kandidaat, doet het heel anders. Hij houdt een passercampagne met zichzelf in de hoofdrol. Hij begint in zijn eigen dorp Heusden en trekt van daaruit Brabant in, steeds een dorpje verder. Wie in Oost-Brabant van de snelweg gaat ziet overal het hoofd van Manders of je dat nu wil of niet. Ondertussen is de VVD-er zelf vooral op kroegentocht, overal spreekt hij mensen aan. Manders speelt man van het volk: aardig praatje hier, voorzichtige belofte daar. Hier zien we hem voor de Shoarma-tent in Someren met zijn 'goede' vriend' de eigenaar.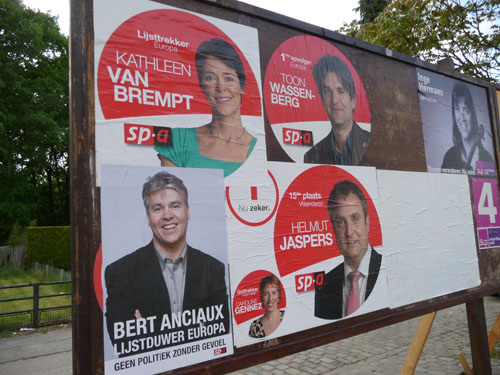 In België wordt ook gestemd voor de gewesten. Veel politieke kopstukken staan op lijst, maar velen van hen zullen niet gaan zetelen als ze verkozen worden. Dat is in Belgie de normaalste zaak van de wereld. Ook hier stuiten we op een ego-campagne. Bert Anciaux, de huidige Vlaamse minister van cultuur, probeert inmiddels in een derde partij carriere te maken. Na de VolksUnie en Spirit/Vla Pro is hij nu sociaal democraat. In tegenstelling tot zijn partijgenoten staat het logo van de partij wel heel klein op het postertje. Waarschijnlijk zijn eigen idee maar misschien ook wel die van de partij. Als Bert Anciaux namelijk belangrijk wordt binnen de partij dan is het einde in zicht. Zowel de VolksUnie als Spirit/Vla Pro vielen uiteen toen Anciaux aan het roer stond.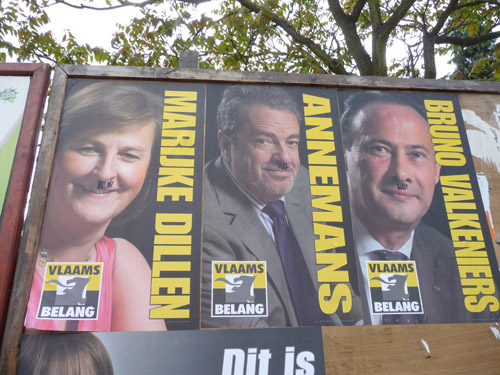 Natuurlijk is ook het rechts populistische Vlaams Belang weer van de partij. Voor Vlamingen en tegen alles wat geen blanke Vlomse pit heeft (buitenlanders, Walen etc etc). Ze zijn nog steeds niet van hun bruine imago af. In Brasschaat hadden tegenstanders kleine snorretjes op de posters getekend, waar doen die ons toch aan denken?