In Vancouver was tijdens de Olympische Spelen net geen Belgische schaatser te bewonderen. Onze held Kris Schildermans strandde op de meest lullige plek die je als sporter met Olympische droom maar kunt hebben: hij was eerste reserve op de 5000 meter. De Belg reisde wel af naar naar Salt Lake City om daar af te wachten of er iemand uitviel. Maar helaas, niemand werd ziek, zwak, misselijk of geblesseerd en dus moest Kris de resultaten van zijn noeste trainigsarbeid op het supersnelle ijs van Utah botvieren. 'Nieuwe besttijd voor mij vandaag op 1 ronde… Goed bezig,' zo twitterde hij. 'Ik begin in vorm te komen en smijt met mijn energie vanaf nu. Sparen hoeft niet…'  Treurig om te lezen dat hij zijn goede vorm niet op het hoogste podium mocht laten zien. Het bleef niet bij een energie-explosie op het ijs. Op de dag van de tien kilometer twittert hij gefrustreerd over de reserve op 10 kilometer: 'Vervanger voor Fabris mist telefoontje. Goed bezig Patrick Beckert en Duitse ploeg!!!' De 10 kilometer is eigenlijk de favoriete afstand van Schildermans ook al mag hij hem zelden tot nooit rijden. Ik weet zeker dat hij het onderste uit de kan had geschaatst onze Kris.
Het valt ook niet mee om schaatser uit België te zijn. Kijk maar naar dit interview op TV Limburg waar Kris zelfs moet uitleggen wat voor sport dat is schaatsen:
[youtube]http://www.youtube.com/watch?v=UV8igRxcD_M[/youtube]
Maar er is hoop. Kris is nu 25 jaar dus theoretisch kan hij nog door tot Sochi in 2014. Nog hoopvoller voor de Olympische toekomst is Quinten Van De Sande een junior van 13 die indrukwekkend hard schaatst voor een Belg. Tijdens de Vikingrace reed Quinten in een internationaal deelnemersveld vol snelle Ollanders steeds rond de 12e/13e plaats en liet daarmee velen junioren uit de schaatsnatie bij uitstek achter zich. Op dit filmpje (rond 7 minuut 34) en deze (5.14) kun je het talent in actie zien.
Nu maar hopen dat Quinten doorzet zowel op schaatsgebied als met drummen dat hij ook goed schijnt te kunnen. Stiekem hoop ik dat hij als zeventien jarige junior Sven Kramer kan bedreigen in Sochi. Dus: Beste Quinten stop niet en ga door! Geef niet op want je kunt mooie dingen bereiken, zeker op schaatsgebied.  Je weet zelf dat als je Nederlanders sportief echt te kakken wil zetten, winnen bij het schaatsen nog veel cooler dan winnen bij voetbal. Denk maar aan die keren dat een Ollander een belangrijke wedstrijd veldrijden won! Nog even en deze cartoon van mijn vriend KIM…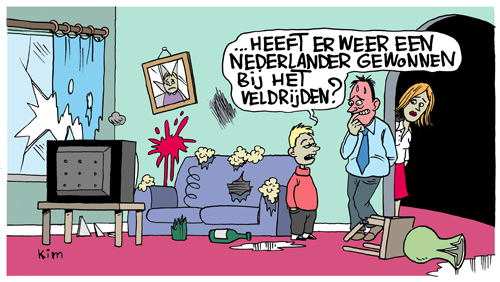 Kan veranderd worden in deze: