Oerol zoals het in de beginjaren moet zijn geweest. Dat is mijn eerste gedachte als ik de kuil inloop waar Colin Benders zijn vrijstaat 'Kytopia' heeft. Het lijkt wel of hier alles kan. Zandsculpturen maken, skateboarden of een hippie zweefdansje doen. Maar daarvoor ben ik hier niet. Ik heb een zelfopgelegde opdracht: jammen met niemand minder dan Kyteman zelf.
Eenmaal in de kuil die 'Kytopia' heet verdwijnt mijn vrijstaatgevoel meteen als sneeuw voor de zon. Waarom heb ik mezelf opgezadeld met deze ambitie? Ooit ja, in een verleden, bestormde ik zelf met contrabas en basgitaar de podia. Maar mijn bassen hangen tegenwoordig vooral aan de wilgen, dus mijn baskwaliteiten zijn niet meer wat ze waren.
Ik heb mezelf nooit een goede bassist gevonden. Als kind van een perfectionistische beroepsmuzikante kon er altijd wel wat beter. Ons huis leek wel het hoofdbureau van de muziekpolitie, elke noot werd beoordeeld. Onmogelijk om dan met plezier te spelen.
Kyteman en zijn mannen maken een prachtige badhanddoek van geluid in de zon. Het publiek ligt erop en ik zit er tussen. Ik ben verslaafd aan muziek en deze jongens zijn echt verschrikkelijk goede dope. Ik geniet met volle teugen en vraag mezelf af waarom ik de mensen in godsnaam moet vermoeien met mijn basgepruts? Ik moet dit niet doen, ik wil niet.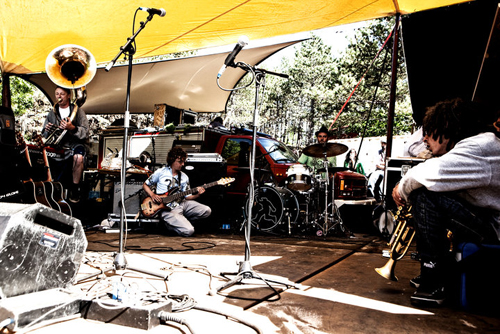 foto: Michiel Langeweerd
Ik loop naar fotograaf Michiel en zeg hem dat ik het niet kan, zomaar op het podium springen. "Gast, je moet dit doen. Je kunt het!", zegt hij met zijn dwingende Brabantse tongval. Ik loop naar het podium dat ineens een onneembare hoge vesting lijkt. Uit de rustgevende zwevende klanken ontstaat langzaam een groove. Michiel geeft me een zetje en ineens sta ik op het podium met een bas in mijn handen. Ik zoek de toonsoort en begin voorzichtig mee te spelen. Een simpel lijntje ontstaat en Kyteman en zijn sousafonist soleren eroverheen. Wauw, ik begin te vliegen, misschien kan ik het toch een beetje? Als ik thuis ben wil weer een bandje omdat dit het mooiste is dat er bestaat.