Huh? Zijn we in het verkeerde vliegtuig gestapt? Zijn we terug in Albanië, het land dat we eerder dit jaar bezochten? Met onze spierwitte huurauto ontwijken we gaten in de weg terwijl we een onwaarschijnlijke reeks huizen en resorts voorbij zien trekken. Net als in Albanië is een aanzienlijk deel daarvan maar half af. Even later zien we links en rechts vettige bekende eetketens, casino's en een USA market terwijl ons vooruitzicht wordt belemmerd door een enorme hummer-achtige bolide waar ons Hyundai-tje een mier bij lijkt. Zijn we dan op een Amerikaans eiland? Om ons heen klinkt Engels en er worden hier om de haverklap cruiseschepen vol cliché-matige Amerikanen losgelaten. Dus zou je bijna denken 'This is Amerika', maar niets is minder waar: we zijn 'gewoon' in ons eigen Koninkrijk der Nederlanden maar dan wel acht uur vliegen van huis: 'Welcome to Sint Maarten, the friendly Island.'
In anderhalve dag hebben we geprobeerd sporen van Nederland te vinden maar zelfs met een vergrootglas kwamen we niet echt veel verder. De verkeersborden, het enige stoplicht en de tekst op de auto's van de overheid (Politie en Brandweer) zijn op het eerste gezicht het enige herkenbaar als Nederlands. En o ja: In de hoofdstad Phillipsburg zit een winkel die Dutch Cheese aan toeristen probeert te slijten. Maar verder? Bijna niets.
Het is zelfs bijna lastig hier een geboren Sint Maartenaar met Nederlands paspoort te vinden. Die maken namelijk maar 20% van de bevolking op het eiland uit. Dus kwamen onze willekeurige gesprekspartners de afgelopen dagen uit Haïti, Saint Vincent, Jamaica, Nigeria, India, Saint Lucia en o, ja toch uit Nederland want we logeren bij een Nederlands stel hier. De ouders van een vriendin in Nederland.
Ik ben tamelijk opgetogen over deze reis die we de komende drie weken maken. Als kleine jongen zat ik vroeger vaak uren gebogen over pagina 149 van de Grote Bosatlas. Op die bladzijde stonden namelijk de Nederlandse Antillen en Suriname. 'Die Antillen zijn van Nederland,' leerde mijn vader me de halve waarheid. Nederland en toch zover weg aan de andere kant van de wereld? Daar moest en zou ik ooit een keer heen.
Voor Sophie is de reden om dit eiland te bezoeken een andere. Ze wil naar het huis van haar grootouders. Niet dat die in ooit op Sint Maarten geweest zijn maar ze waren wel Frans net als de helft van dit eiland. Eigenlijk is Sophie zelf een Sint Maarten: half Frans, half Nederlands.
Zonder dat het opzet was had Harry, onze gastheer dezer dagen, een leuke verrassing voor Sophie in petto. We gingen uit eten en wel net over de grens in het Franse deel. Zodra we de grens over waren was het asfalt zo glad als een spiegel en waren alle teksten om ons heen Frans. Harry wilde met ons eten bij zijn favoriete pizzeria, maar toen die dicht bleek viel Sophie's oog op een eettentje verder 'Zullen we anders naar die Crêperie?' Harry en ik waren niet te beroerd en stemden in. We kregen de menukaart van een zeer herkenbare, keurige Franse serveerster en Sophie bestelde stralend 'Un Crêpe Raclette avec un verre de rosé, Cote de Provence s'il vous plait,' en tot ons: 'het lijkt hier wel de Cote Azur!'
Feest der herkenning voor Sophie maar niet voor mij die vooral voor het Nederlandse deel hier is. Maar wat maakt dat uit? Ik was zelf altijd al meer van de Balkan dan van Frankrijk. Het beloofd dus voor ons beiden dus een mooie reis te worden…
O, ja hier twee foto's van ons wonderschone uitzicht vanaf de veranda: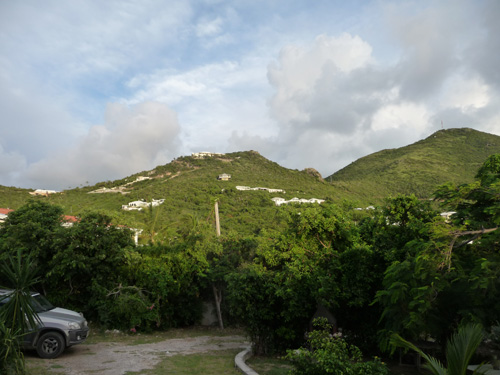 en…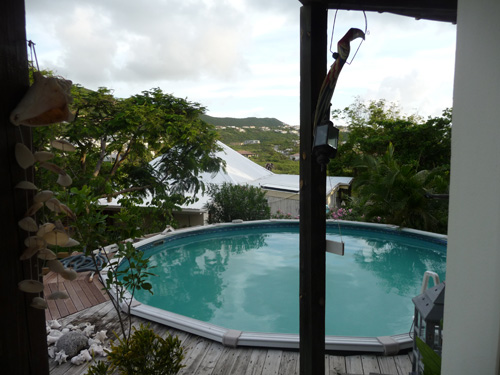 Journalisten Pieter-Bas en Sophie reizen de komende drie weken langs alle eilanden van de Nederlandse Antillen in het kader van 10-10-10, de datum dat alle eilanden een nieuwe relatie met Nederland krijgen. Sint Maarten en Curaçao worden aparte landen binnen het koninkrijk terwijl Sint Eustatius, Saba en Bonaire bijzondere gemeenten worden.