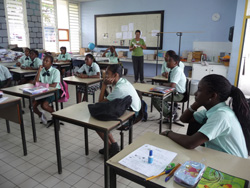 Afgelopen week waren we op Sint Eustatius te gast bij zowel een middelbare als een lagere school. Voor de landelijke kinder- en jongerenkrant deden we verslag. Bij de jongeren variant 7days waren de Nieuwe gemeenten zelfs voorpaginanieuws. Hieronder het stuk voor de Kidsweek:
De Governor De Graaff school is een Nederlandse basisschool, maar alles is er net even anders. Gymmen doen ze bijna altijd buiten, want het is er altijd 30 graden. En de meeste kinderen spreken thuis geen Nederlands, maar Engels of Spaans. De school staat op Sint Eustatius (Statia), een tropisch eilandje in de Caribische Zee. Vanaf zondag is Statia een Nederlandse gemeente.
Omdat het op Statia altijd warm is, begint de school al om half zeven. Het klaslokaal heeft geen echte ramen, alleen een luxaflex. Daardoor waait er een tropisch briesje door de klas. In september of oktober kan dat briesje soms wel eens een orkaan worden.  'Dan gaat de school soms een paar dagen dicht', vertelt Alejandro (12 jaar) uit groep 8. Van alle kinderen uit zijn klas spreken alleen Jarisse (11 jaar) en Stefanja (11 jaar) thuis Nederlands. De meeste andere kinderen in de klas spreken thuis Engels en er zijn ook drie Spaanstaligen. Die komen uit Dominicaanse Republiek, een land in de buurt van Statia.
'We krijgen hier les in het Engels en in het Nederlands', legt Alejandro uit. 'We vinden Nederlands een moeilijke taal, maar we moeten het toch leren als we ooit in Nederland willen gaan wonen of studeren.' Om de kinderen te helpen, zegt juf Juliette dingen vaak twee keer: een keer in het Engels en een keer in het Nederlands.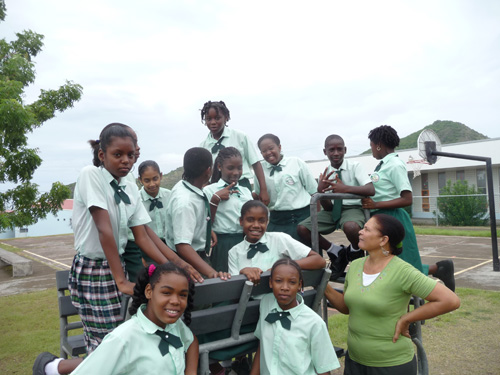 Snorkelen en steelpan
Om vijf over een gaat de school uit. Dan gaan de leerlingen dingen doen waarvan de meeste Nederlandse kinderen alleen kunnen dromen. 'Je kunt gaan zwemmen en snorkelen in de zee, of de slapende vulkaan The Quill beklimmen', vertelt Steven (11 jaar). 'Ook hebben we verschillende sportclubs en zitten veel kinderen op muziekles bij de steelpanclub. Een steelpan is een Caribisch instrument gemaakt van een uitgedeukt olievat waar je liedjes op kunt spelen.'
Feest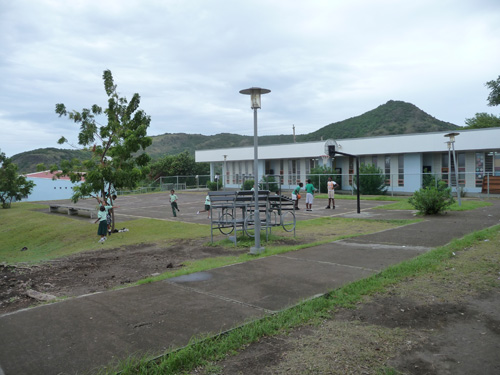 Op zaterdag 10 oktober vieren de kinderen van de Governor De Graaff school groot feest omdat Statia een gemeente van Nederland wordt. 'We hebben dan in het openluchttheater een songfestival waar wij in het Nederlands het lied Zaterdag zingen!'
Nieuwsgierig hoe dat met een Engels accent klinkt? Kijk dan hier naar het filmpje:
[youtube]http://www.youtube.com/watch?v=HGWGCiZKLqc[/youtube]