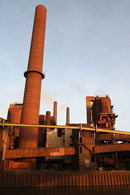 "Stinkt het hier?" vraag ik aan Sophie en Maarten als we Charleroi binnen rijden. "Ja het stinkt" roepen ze eensgezind. De weg die zojuist nog een glad lint was, is veranderd in aan elkaar geplakte stukjes asfalt. Om ons heen al jaren niet meer onderhouden grauwe huizen. De ramen zijn zwart, niet alleen die van verlaten panden, ook woonhuizen en zelfs etalages van winkels zijn bedekt met een dikke laag stof. Alsof ze hier nooit van ramenlappen hebben gehoord.
De lucht van rotte eieren wordt sterker en we besluiten onze neus te volgen. Op naar een overleden kippenboer of iets anders. Aan de horizon doemen gevaarlijk rokende schoorstenen op. We parkeren onze auto bij een verlaten pompstation en onze monden vallen open. Zoveel kleuren bruin hebben we zelfs op een mooie herfstdag nog niet gezien.
We staan voor de Carsid cokesfabriek. Vrachtwagens met een dampende lading rijden af en aan. We gaan op pad en blijken vrij gemakkelijk dwars door de fabriek heen te kunnen lopen. We kunnen zelfs het terrein op. Er is geen mens te zien en om ons heen rookt, kraakt en piept het. Dit voelt niet als België, dit lijkt op Boekarest of een andere Oost-Europese stad.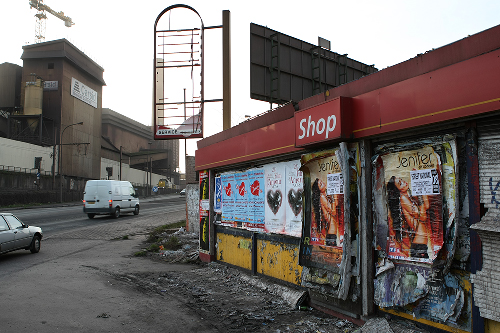 Welkom in Charleroi, de stad die vooral bekend is van industrie, Dutroux en grootschalige politieke corruptie. We besluiten wat rondjes te rijden. De stad is een troosteloze bedoening, er lopen weinig mensen op straat. Ook in het centrum is het voor een zaterdagavond erg rustig. Zelfs Roermond heeft met vijftigduizend inwoners meer kroegen en restaurants dan dit oord met tweehonderdduizend zielen.
We drinken wat in Le Coq Hardi, een gewoon bruin café dat tevens dienst doet als de plaatselijke homobar. Barman Raoul blijkt een Nederlander die ons vertelt dat de vervallen staat van de stad oorzaak is van de 'miljarden' die de Parti Socialiste jarenlang in eigen zak stak. Charleroi heeft een werkeloosheid van dertig procent en het gemiddelde jaarinkomen ligt rond de 10.000 euro. Ter vergelijking: in de Vlaamse industrie- en havenstad Antwerpen bedraagt het gemiddelde jaarinkomen circa 14.000 euro en is een kleine 17 procent werkeloos.
Raoul vertelt ons dat de stad als gevolg van de armoede crimineel is. "Je moet hier s'avonds echt uitkijken," weet hij. We vragen ons af wat Raoul zoekt in Charleroi. "Ik ben hier beland door de liefde. En het bevalt me goed, de mensen in Charleroi zijn bijzonder warm. Misschien komt dat juist door die armoede." Op de vraag of hij geen heimwee heeft naar Nederland moet hij lachen: "Nee, ik blijf hier… Voorlopig althans."
We keren terug naar Brussel, een illusie armer en een fascinatie rijker… Charleroi tot snel!
En o, ja de winnaar van de Quiz is de heer Krant uit Amsterdam.
Foto's: Maarten van Haaff