Deprecated: Function get_magic_quotes_gpc() is deprecated in /data/www/levenoppluto.nl/www/wp-includes/formatting.php on line 4371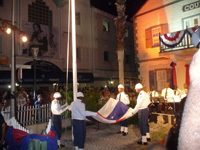 Met het strijken van de de Antilliaanse vlag en hijsen van die van Sint Maarten was het gedaan. De Antillen bestaan niet meer en Sint Maarten is nu een zelfstandig land in het Koninkrijk der Nederlanden. Of het de meeste mensen die op dit eiland wonen echt bezig houdt is de vraag. Bij de officiële ceremonie voor het Courthouse zaterdagavond waren wel een slordige 800 mensen aanwezig maar dat is een schijntje van alle zielen die op het eiland wonen, schattingen daarover lopen uiteen van 35.000 tot 70.000.
[youtube]http://www.youtube.com/watch?v=Bu94NdhSCTo&list=UUD32tdvjtlGJ6gwLzpge6fA&index=5&feature=plcp[/youtube]
Wie is de Sint Maartenaar en wat is zijn identiteit? Die vraag blijft ons bezighouden. Slechts de helft van de inwoners heeft de Nederlandse nationaliteit en een nog kleiner deel (ca. 30%) is op het eiland geboren. Het was dus zoeken naar de echte Sint Maartenaar en om eerlijk te zijn waren wij er, in het wild, nog niet een tegen gekomen. Zaterdagavond toen ze eindelijk zelfstandig werden kropen ze uit hun holen. Zou de Sint Maartenaar dan toch bestaan? De ceremonie begon met het Wilhelmus waarvan opvallend veel mensen het eerste couplet kennen daarna horen we het volkslied van de Nederlandse Antillen instrumentaal want niemand kent de tekst. Op het moment dat de eigen driekleur naar boven gaat schalt het "o sweet sint martinsland" uit werkelijk waar alle kelen. Liever Sint Maarten dan de Nederlandse Antillen dus.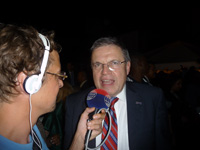 Wie een impressie wil horen van deze ceremonie luistert hier naar de speciale uitzending van de Wereldomroep. Of hieronder naar de reportage die ik maakte voor BNR Nieuwsradio, inclusief een interview met de officiële vertegenwoordiger van Nederland Demissionair minister Hirsch-Ballin:
Geen flash? Download de reportage dan hier.