Waar komt de onvrede van de kiezer over de politiek toch vandaan? Met die vraag betreden we jazzcafé In den boekenkast aan het stadsplein van Capelle. Daar ontmoeten we VVD-lijsttrekker Hans Jacobs, al twintig jaar raadslid. Zijn partij werd in 2002 stevig gestraft en verloor drie van de acht zetels. Maar waarom?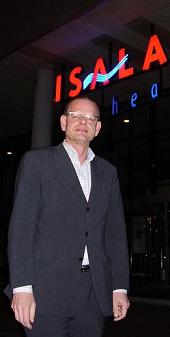 Jacobs heeft er geen pasklaar antwoord op. In Capelle is het prettig wonen en er zijn volop sport- en cultuurvoorzieningen voorhanden. Grote groepen schreeuwende actievoerders zijn al jaren niet meer op het Stadsplein gesignaleerd. Ook bij de raadsvergaderingen gaat het er meestal rustig aan toe op de publieke tribune. Jacobs denkt dat mensen bij het uitbrengen van hun stem vooral kijken naar hun directe omgeving. Of de vuilnis op tijd wordt opgehaald, of het groen er goed bijstaat en of de stoeptegels recht liggen.
Probleem is dat veel overheidsdiensten op afstand zijn geplaatst, zegt Jacobs. De gemeentereiniging, de energiebedrijven, de plantsoenendienst. Dat is een landelijke trend, vaak geboren uit noodzaak van bezuinigingen. Konden Capellenaren vroeger met hun klachten bij de gemeente terecht, tegenwoordig worden ze doorverwezen naar de eindeloze keuzemenu"s van de desbetreffende instantie. "Ik heb daar ook wel eens naartoe gebeld. Verschrikkelijk." Gemeentebestuurders kunnen daardoor minder kordaat reageren als er iets misgaat.
Bovendien worden veel politieke beslissingen tegenwoordig genomen in de "gigantisch ondemocratische club" van de Stadsregio, vindt Jacobs. Zoals bijvoorbeeld het huisvestingsbeleid. De gemeenteraad wordt hierdoor vaak voor voldongen feiten geplaatst en mag niet meepraten. Het is niet zo dat Leefbaar het medicijn heeft uitgevonden dat deze problemen de wereld uit helpt. Jacobs: "Ik vind dat ze zich niet anders gedragen dan de oude politiek." Leefbaar biedt boze burgers volgens hem alleen een schouder om op uit te huilen, maar dat is uiteindelijk geen oplossing.
De VVD afdeling Capelle gaat vol goede moed de verkiezingsstrijd aan. Met gratis parkeren, meer cultuur, pertinent geen verhoging van de lokale belastingen en de mogelijkheid voor bewoners om meer groen rondom hun huis te kopen of te huren. Na de vorige verkiezingen durft Jacobs, net als zijn Leefbaar-opponenten, geen enkele voorspelling meer te doen over de uitslag op 7 maart. Jacobs: "Ik denk dat veel kiezers pas in de laatste dagen hun stem bepalen."