Flash! Een felle korte lichtstoot schiet over een provinciale weg. Wat zouden automobilisten hiervan denken? 'Shit, reed ik te hard?' Fotograaf Jimmy Kets heeft wel eens meegemaakt dat een snelheidsduivel omdraaide om te kijken of hij zojuist gesnapt was door een flitspaal. 'Er komt nog een dag dat ik een klap op mijn bakkes krijg,' zegt Kets lachend. 'Maar je moet er wat voor over hebben om de juiste foto te maken.'
Heel wat kilometers legt Kets af voor zijn nieuwe project 'Shot in Flandres' waarin hij Amerikaanse invloeden in Vlaanderen wil vastleggen. Makkelijk is anders. Als je goed kijkt is het meeste om ons heen gewoon van 'eigen' Europese makelij. Om de slagingskans te vergroten, zoekt Jimmy Kets (1979) het aan de randen van de stad. 'Laten we naar de Kortrijkse Steenweg gaan,' zegt Kets als we vanuit Gent vertrekken. Loerend over zijn stuur schieten zijn ogen van de weg via zijn spiegels naar de weg en terug. Maar Kets kijkt constant verder dan de gemiddelde automobilist, soms wijzend op een mooie, vreemde of geestige combinaties in het voorbij trekkend landschap.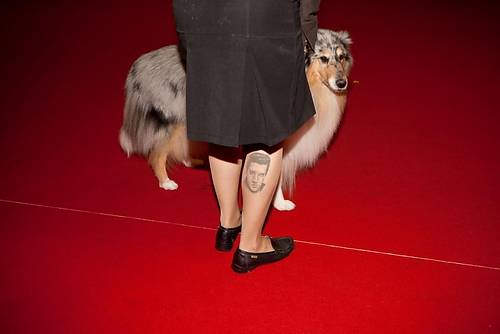 In België zijn talloze steenwegen. Ooit waren dit de eerste verharde levensaders die, bol van de bedrijvigheid, steden aan elkaar regen. Met de komst van snelwegen verloren veel steenwegen hun centrale functie. De snelweg, de vooruitgang. Het viel allemaal samen met uit de Verenigde Staten overwaaiende zaken als carwashes, supermarkten met parkeerplaatsen en drive inn vettigheid. Juist dit soort Amerikaanse zaken hebben zich opvallend vaak juist aan die steenwegen gevestigd. Goed bereikbaar en ruimte zat op die plekken waar eens stinkende industrie stond. De steenwegen hebben zich ontpopt tot oorden waar mensen met de auto snel hun ding doen en dan weer vertrekken. Om de voorbijgangers in hun bolide te overtuigen toch even te stoppen, staan er schreeuwerige borden langs de kant van de weg.
Kets vertelt in korte zinnen en zo is zijn rijstijl ook. Vaak net begonnen of hij stopt en zet zijn auto aan de kant om iets te gaan bekijken. "Kijk daar, het lijkt wel of die voor ons is neergezet!" zegt hij bij de derde stop. Voor ons staat een zilvergrijze Lincoln te blinken in de late november zon. Hij stapt uit en loopt een paar rondjes om de auto terwijl hij allerhande details van de bolide van dichtbij bekijkt. Dan pakt hij zijn camera en flits. "Nu begint het echt moeilijke werk," legt Kets uit. "Ik wil er een tijdloos beeld van maken waarvan je ook niet direct het idee krijgt dat het in Vlaanderen geschoten is." Na enig speuren door de lens kiest Kets voor het interieur van de auto met op de achtergrond fastfoodketen Quick. "Ik weet het: Quick is Frans, maar het is wel een drive inn en dat is weer heel Amerikaans."
Het resultaat werkt bevreemdend. Het flitslicht kaatst heel hard van de banken van de auto je gezicht in terwijl juist de omgeving wordt weggedrukt. Dat is precies wat Kets wil. "Ten opzichte van mijn dagelijkse werk als persfotograaf wil ik in mijn eigen werk het accent verleggen, naar dingen die je normaal niet opvallen. Flitsen helpt daarbij want het werkt heel confronterend: je ziet alles." We rijden verder maar vinden vandaag nauwelijks goede spots met een Amerikaans tintje. Wel opvallend veel verlaten bordelen trekken onze aandacht. Als ik Kets suggereer dat dit misschien wel een mooie volgende serie is, zegt de fotograaf die met zijn camera ook graag professioneel op erotiekbeurzen komt lachend: "Wie weet, dit project begon ook met kuit van een wulpse dame waar Elvis op getatoeëerd was."
do 17 mrt 2011 t/m zo 20 mrt 2011
Jimmy Kets Brightside/Shot in Flandres
Waar? Vlaams Cultuurhuis De Brakke Grond, Nes 45, Amsterdam
In het kader van Belgie?!…
Opening: donderdag 17 maart, 17u00