De verkiezingen en de staatkundige vernieuwingen houden ook de bursalen van Sint Maarten in Nederland bezig. Donderdagavond 16 september kwam een aantal van hen bijeen bij de S4 foundation in Amsterdam. Ze discussieerden over de toekomst van het eiland en de verkiezingen. "Ik vind het jammer dat ik niet mag stemmen nu."
"Is ons geboorte-eiland wel klaar om zelfstandig te worden?" Met die vraag zitten de meeste studenten duidelijk in hun maag. De criminaliteit baart ze zorgen, maar ook de afwezigheid van banen voor jongeren. "Ik ben niet zo'n voorstander van 10-10-'10. Sint Maarten moet veel veranderen om een beter eiland te worden. Er is veel criminaliteit, de overheid is niet georganiseerd. Die datum komt wat mij betreft te vroeg", zegt Jacky. Veel van de studenten vragen zich af waarom Sint Maarten niet eerst de problemen aangepakt heeft alvorens land te worden, volgens hen was dat beter geweest.

Als Jacky vrijdag 17 september bij de verkiezingen van Sint Maarten wel zou mogen stemmen, zou haar stem naar de UP-Party gaan. "Ze zijn positief en ze hebben andere ideëen, bovendien zijn zij de enige partij die nog en paar jongeren op de lijst heeft." Of Jacklin de dag van de ontmanteling van de Nederlandse Antillen gaat vieren, weet ze nog niet. "Misschien roep ik wel even 'Yeah Sint Maarten' met een biertje in de hand. Maar echt enthousiast ben ik gewoon niet."
Stimulans
De ervaring die ze opdoen in Nederland speelt daarbij een belangrijke rol. "Als je hier woont zie je gewoon hoe een land in elkaar moet zitten," zegt Dayrohn. "In Nederland is alles goed georganiseerd vergeleken daarbij is Sint Maarten een chaos." Niet iedereen is het daarmee eens. Sommigen vinden dat je het eiland niet met Nederland moet vergelijken, te anders. "Misschien dat de zelfstandige status juist een stimulans is voor de bestuurders om zaken op Sint Maarten aan te pakken," roept Dayrohns opponent.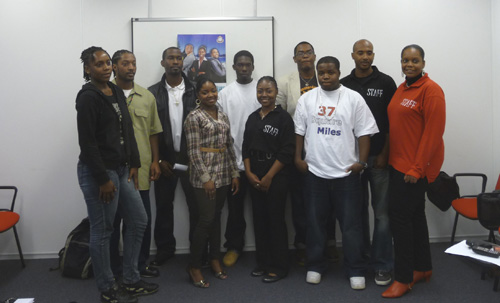 Ignald, een in een Afrikaans shirt gehulde student is de enige die voor de volle honderd procent achter 10-10-10 staat. "Het maakt onderdeel uit van ons bewustzijn, het is een stap dichter bij volledige onafhankelijkheid waar we uiteindelijk naar moeten streven. Daarbij zullen we onze blik moeten verleggen van Nederland en de Verenigde Staten naar andere eilanden in het gebied."
Volwassen
"We zijn er wel mee bezig," vertelt Mel Lake. "Ik zit regelmatig met vrienden van Sint Maarten bij elkaar om te praten over de toekomst van ons eiland. Maar ook hij betwijfelt of Sint Maarten er klaar voor is om land te worden. "Misschien wordt Sint Maarten er iets volwassener door want nu hangen teveel mensen op het eiland achterover en doen niets." Een studente Bedrijfskunde vindt het jammer dat ze nu in Nederland is en dus niet kan stemmen. "De criminaliteit moet aangepakt worden. Het moet weer een Friendly Island worden. Ik ben soms ook bang om terug te keren, ik hoor zoveel slechte verhalen."
Luister hier naar de Reportage voor de Wereldomroep:
[audio:http://www.levenoppluto.nl/audio/20100917_RNWcar_sxm_en_studenten.mp3]
Geen flash? Download de reportage dan hier.