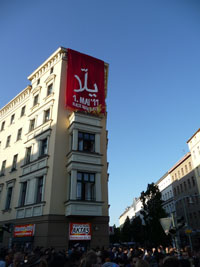 1 mei dag van de arbeid! Dus pak je s'ochtends je biezen en ga je naar je werk. Het is dat het vandaag zondag is, anders hadden wij Nederlanders dat massaal gedaan. In vrijwel elk ander land kijken mensen hier met gefronste wenkbrauwen naar. Is de dag van de arbeid niet juist om je even aan het juk van die eeuwige sleur te ontrekken?
In Duitsland bijvoorbeeld is 1 mei een haast heilige feestdag. De meeste mensen trekken erop uit of slapen hun roes van het mei-feest de dag ervoor uit. Wie iets meer vertier wil, bezoekt een van de vele feestjes die deze dag in Duitsland zijn. In Berlijn is het centrum van de eerste mei activiteiten te vinden rond U-bahnstation Kottbuser Tor in Kreutzberg.
Het heeft wel iets weg van Koninginnedag. Hordes mensen proppen zich door de straten, jong en oud vertonen hun muzikale en (semi)theatrale kunsten en het bier vloeit rijkelijk. Het enige wat op het eerste gezicht ontbreekt is de vrijmarkt. Toch doet een groep er een beetje aan denken: Turkse ondernemers staan aan de kant van de straten met een brede grijs op het gezicht kilo's köfte aan de man brengen. Voor hun betaalt de dag van arbeid misschien wel meer dan een enkel dagje vrij. Je ziet ze rekenen: dit jaar misschien een extra weekje Turkije?
Even denk je: het valt best wel mee, het is gewoon een volksfeest. Maar dan ineens, zo tegen het eind van de middag kleurt de Kottbuser Tor zwart. Uit alle hoeken en gaten stromen ze toe. Gehuld in leren jassen, zwarte capuchontruien en opvallend vaak nike-sportschoenen. Ze noemen zich autonoom, anarchist, anti-globalisten of in elk geval iets dat links en tegendraads klinkt. Ze dragen rode vlaggen, protestborden en ze scanderen leuzen.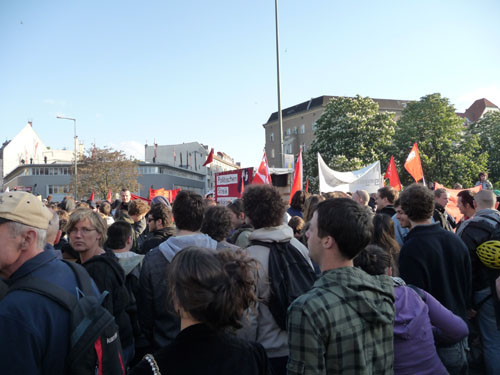 Gegen Atomkraft! Gegen Gentrificierung! Gegen Kapitalismus! Gegen…. Om mij heen is iedereen tegen. Gegen Nazis! Gegen Amerika! Bundestag Hurensohn! Huh? Ik knipper met mijn ogen, het lijkt een grote flashback van een tijd die ik een beetje ken als kind. Zoveel punkkapsels en gescheurde broeken heb ik in geen jaren meer gezien.
Ik zoek een lijn in het protest maar kan hem niet vinden. Tegen het systeem betekent voor iedereen hier wat anders. Nou ja … Tegen de politie zijn ze in ieder geval allemaal. Wie hier niet tegen is, is oom agent. Als groene riviertjes bewegen de bromsnorren zich in een sliert door de massa of ze staan als kleine eilandjes in de mensenzee met een man of vijf in een rondje, de ruggen naar elkaar toe. Allemaal hebben ze zo'n grote ME helm in hun handen. Ze kijken angstig en controleren zo nu en dan tas.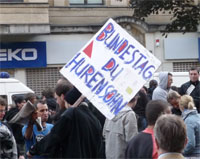 Waar ben ik eigenlijk tegen? Ik stel mezelf deze 'maatschappij krietiese' vraag en denk na. Eigenlijk niks. Ik ben vooral voor, voor de zon die schijnt, nu op dit moment. Laat ik een terras zoeken. Ik pak mijn fiets en verlaat de betoging.
Terwijl ik slalommend tussen de politiebusjes rijd, bedenk ik toch iets waar ik tegen ben: de monarchie! Even twijfel ik, moet ik terug gaan en hard 'Beatrix raus!' gaan roepen? Dan bereik ik het feestinferno dat bij de Kottbuser Tor achtergelaten is: vieze straten, vette lucht en zatte mensen. De vrolijkheid is hier ver te zoeken, oom agent is ook hier overal en zo nu en dan roept iemand, die doet alsof het feest nog gaande is, iets provocerends in hun richting. En dan schrik ik, stel je voor: Nederland zonder Koninghuis… Dat betekent geen Koniginnedag en voor je het weet gaan we dan ook tegen het systeem terug naar de jaren tachtig. Nee! Ik zet volgend jaar gewoon mijn oranje muts weer op en daarom mag Bea best blijven.