Deprecated: Function get_magic_quotes_gpc() is deprecated in /data/www/levenoppluto.nl/www/wp-includes/formatting.php on line 4371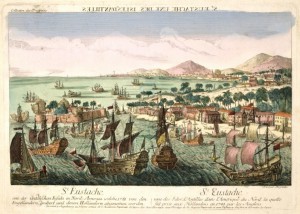 Handelaren uit alle windstreken, uitpuilende pakhuizen en bergen suiker, melasse, slaven en buskruit op kades. Zo zag het kleine Caribisch Nederlandse eiland Sint Eustatius er in de achttiende eeuw uit. Er woonden tienduizend mensen op het eiland. Dagelijks meerden er net zoveel schepen aan als in Amsterdam.
Statia, zoals het eiland in de volksmond heet, was in die tijd een van de weinige vrijhavens en groeide uit tot het belangrijkste handelscentrum voor de Amerikaanse opstandelingen. Ze hadden Statia nodig voor zo ongeveer alles: van het versturen van simpele brieven tot drank, wapens en buskruit.
Het eiland deelt een haast mythische geschiedenis met de Verenigde Staten. Volgens de Amerikanen erkende de gouverneur, Johannes De Graaff, er op 16 november 1776 als eerste in de geschiedenis de onafhankelijke Verenigde Staten.
Maar valt er wel iets te vieren? Voor Het Spoor Terug reist Pieter-Bas van Wiechen naar Sint Eustatius op zoek naar de roemruchte geschiedenis. Hoe kijken de eilandbewoners van nu terug op dit omstreden verleden?
Luister hier naar de documentaire (uitgezonden op 27 september 2015, Ovt Vpro Radio 1)
download De koloniale kater van Sint Eustatius
Documentaire van Pieter-Bas van Wiechen i.s.m. Sophie van Leeuwen. Techniek: Berry Kamer. Andere stemmen: Michael Bennett en Jigal Krant. Met dank aan: Joshua Spanner, Misha Spanner, Walter Hellebrand, Gay Soetkauw, The Simon Doncker Club, Kizzy, Ivo Stuivenberg, Marco Spruit Bleeker, Reese Cook, Floriaan Ganzevoort, Sandrine Chatron, SECAR, The St. Eustatius Historical Foundation, Havenkerk Schiedam en het Ministerie van Koninkrijksrelaties.