Toen ik een jaar of zeventien was pakte ik met een vriendin op mijn zolder een oude hobby op: radio-tje spelen. Zwaar onder invloed van een met Theo & Thea doordrenkte jeugd (en een fles rode wijn) waanden we ons een klef Avro-programma, een beetje 'radio 2 na middernacht'. De jingles en achtergrondmuziek nam ik door dezelfde als microfoon dienstdoende hoofdtelefoon op.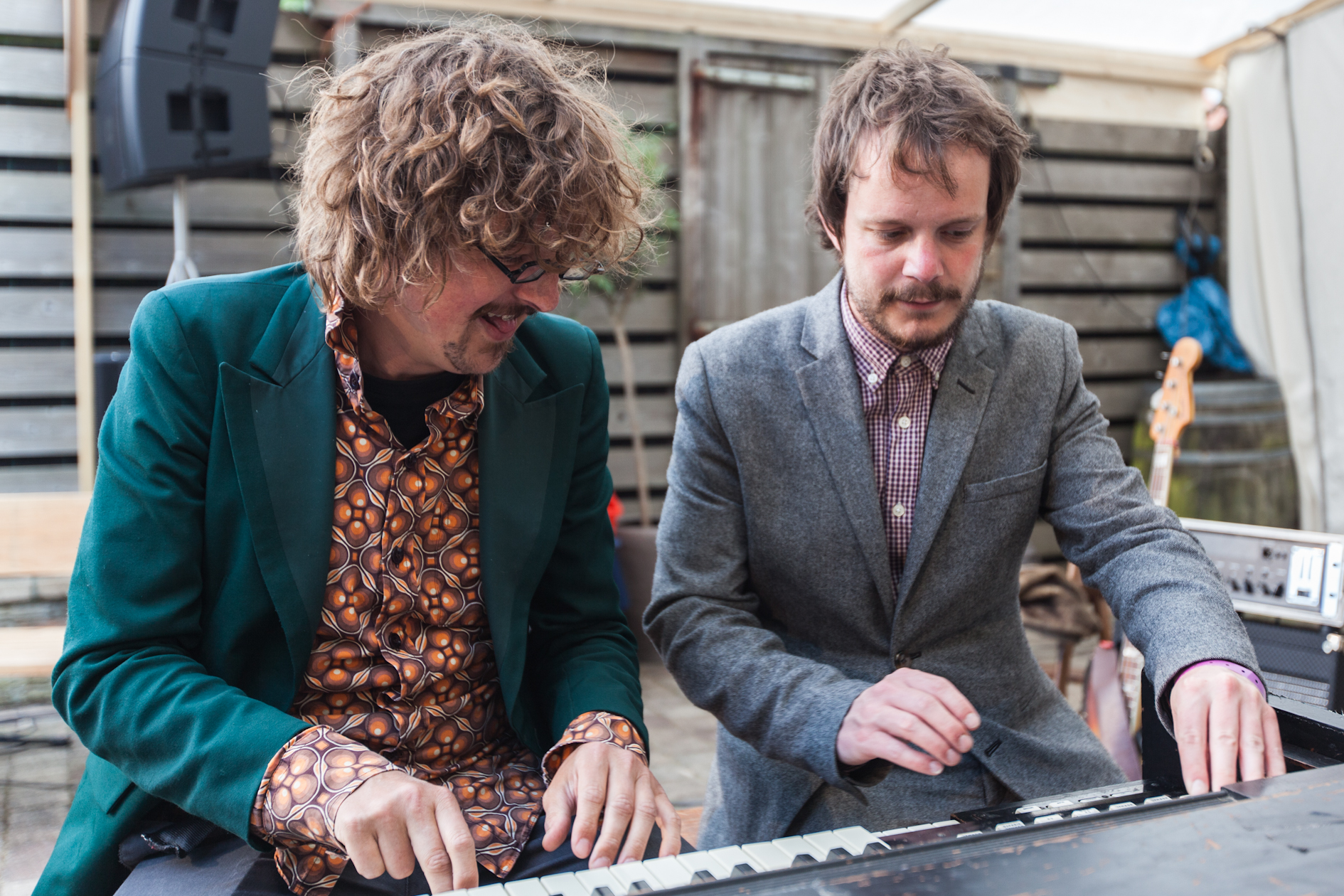 foto: Nichon van Glerum
Het waren de jaren dat iedereen aan de CD's was en platen overal voor een appel en en ei te krijgen waren. Een beetje vanuit mijn liefde voor kitsch was "Hammond-a-Gogo" van James Last in mijn collectie terecht gekomen. Deze bovengemiddeld ranzige vertolkingen van jazzstandards speelden een leidende rol in onze late-night show. We bedachten er zelfs een fictieve Hammondorganist bij.
We maakten plannen voor de radioshow en dus begon ik uit bakken allerhande Hammondplaatjes te verzamelen. Het gevarieerde, maar vrijwel altijd heftig dichtgesmeerde geluid van het orgel ging met de jaren steeds meer in mijn systeem zitten. Zoals die machtige machine kan smieren, ronken, gieren, brullen en proesten. Wauw!
Ik vond pikante Italiaanse filmmuziek en even later ook Hammondjazz van helden als John Big Patton, Jimmy Smith en Dr. Lonnie Smith. Heimelijk droomde ik steeds vaker van om mijn contrabas en basgitaar aan de wilgen te hangen om zo'n smerig monster te leren bedienen. Bovendien kun je op een Hammond ook buitengewoon goed bassen: met je – liefst blote – voeten. Had ik dan veel te laat mijn muzikale roeping gevonden?
Stiekem bekeek ik urenlang de huiskamerorgels in diverse kringloopcentra, in de hoop er ooit een echte Hammond te vinden. Ik liet mijn vingers over de toetsen glijden en hoorde van binnen zo'n typisch hakkelend glissando uiteindelijk eindigen in een loeiend hoogtepunt. Maar ik vond geen Hammond en zo'n ander orgel dat misschien een beetje op een Hammond lijkt? Die hoorde volgens mij naast het aquarium in woonkamers met bloemetjesgordijnen en zijn toch niet hetzelfde als een echte vleugel, een viool of een mooie spaanse gitaar? Nee, het gaat om het echte Hammondorgel, anders niet.
Wat is mooier dan een Hammondorgel? Twee Hammondorgels! Op naar Orgel Vreten dus. Tijdens de zinderende orgelmis beuken, raggen en beroeren Thijs Schrijnemakers en Darius Timmer hun orgels, er vliegen zelfs regelmatig toetsen door de lucht. Na afloop staar ik verslagen naar het toneel. Als ik ooit een Hammond wil proberen is dit het moment… Wijfelend vraag ik Thijs of ik een keer zo'n Hammond glissando mag maken. "Natuurlijk!," zegt Schrijnemakers met een Brabants accent.
Even later zit ik op het bankje. Schrijnemakers legt uit dat ik mijn vingers over de toetsen moet laten glijden en dan op een punt stoppen. Ik doe het terwijl de meester zelf de register bediend. Wat? Ben ik dat? Breng ik dit zwanger gierende geluid voort? Ik voel een blos op mijn wangen komen en wil het uitschreeuwen. Ik voel hoe de Hammondgeest in mij komt, ik heb mijn Lesley gevonden en ben bekeerd. Maandag na het festival begint mijn orgeljacht!
Orgel Vreten – De wederopstanding
21 en 22 juni 11.00 en 14.00 uur, locatie 31 Cafe Groene Weide – Oost, €13
Orgel Vreten
21 juni 23.00 uur, Westerkeyn, vrij toegankelijk met polsbandje
Tekst Pieter-Bas van Wiechen
Foto Nichon Glerum