I wrote this article for Radio Netherlands Worldwide:
Sympathizers and a member of the National Movement for the Liberation of Azawad in Paris invited Radio Netherlands Worldwide reporter Sophie van Leeuwen over for a cup of tea. As her chat revealed, building a new country and managing a humanitarian crisis is hard.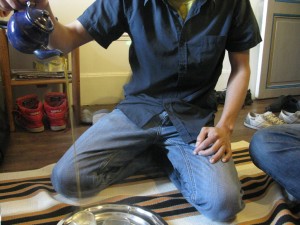 In a petite studio apartment in the north of Paris, a group of Tuaregs met on a recent Thursday night to discuss their new country, Azawad. And I was invited. Sitting on the floor, they eat lamb and drink tea. In between, they Skype and talk on the phone.
Few Tuaregs live in the French capital. About one hundred, estimates Mamatal Ag Dahmane, a young Tuareg man. They all know each other.
Mobilized
Everyone has been mobilized. "The situation demands it," says Ag Dahmane, who doesn't want me to take his photo.
The Tuaregs are clearly busy building a new nation. Azawad lies in the north of Mali, a territory in the desert that was conquered earlier this month. "Many of us did not choose to participate," says Ag Dahmane, "but this is a situation that affects all of us."
Catastrophic
"We'll have to double our efforts," says Ousmane Ag Daalla, stretching out on a bed with his tea. In his view, all hopes are pinned on Paris.
Ag Daalla and Ag Dahmane are concerned by the humanitarian situation in northern Mali. "Every day there are threats," says Ag Daalla. "Either the French will fight the Islamist whom they suspect to be in the north, or ECOWAS [Economic Community of West African States] will organize 2000 or 3000 men to attack the north."
"Catastrophic" is how Ag Dahmane describes it. "There are actually more than 210,000 refugees spread all over Mauritania, Burkina Faso, Algeria and Niger. They find themselves in a very, very difficult situation. Unfortunately the humanitarian NGOs are not able to provide enough help."
Total war
In the meantime, Mali's interim president , Dioncounda Traoré, has pledged to attack the Turareg rebels occupying the north of his country.
Is this total war? President and spokesperson of the MNLA European division Moussa Ag Assarid reflects. "We ask ourselves: 'Haven't we been in war before?' I think so!" he says. "Whoever comes to dislodge us from our territory we are ready to fight until the end."
By which means ? Moussa Ag Assarid : "We have men, women, children who have given their lives. And we have our determination. Because of all that, we won't back of."
It's late. Ag Dahmane thanks me for visiting. On my way out, at the door, he smiles: "Will you help us?"