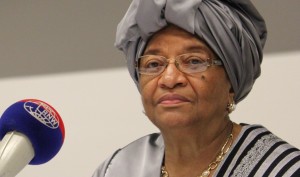 Ellen Johnson Sirleaf, the president of Liberia, is a beloved leader around the globe. She received the Nobel Peace Prize 2011. Yet, in her own country she's been accused of nepotism. I was on hand for an exclusive interview.
Three of your sons have been appointed to high government positions. How do you explain this?
"We have a country that has a very low capacity. Some of our institutions – the ones that have to carry out the important reforms for the transformation of our country – simply do not have the capabilities. They also sometimes lack the sufficient integrity to be able to do what is right."
"We have to place certain people close to us in positions to carry out our mandate of reform at the level of competence and honesty that is needed."
"Nepotism is putting somebody who is a relative in a position for which they don't have the qualifications, integrity or competence. There are times when you have to hire relatives, even when it's a temporary measure, to achieve your objectives."
You've accused former Liberian president William Tolbert of nepotism because he put his relatives in powerful positions. Do you think they were competent?
"Oh absolutely they were competent. Look, I've been criticized now too. But meeting your objectives at the end of the day is what counts most."
So you will not fire your sons? To show that you are a hero of anti-corruption?
"No, I will not. There is a mandate and there's a job to be done. When that job and mandate is done, perhaps they'll move on to other things."
Government officials in Liberia sometimes earn up to 10,000 dollars a month. Is there anything you can do about that?
"We have to recruit Liberians of certain professional skills and experience to certain strategic posts. If we do not pay them well, we will not be able to recruit them. We actually pay foreigners on our technical assistance programme much more than that."
"If a Liberian is qualified and competitive and if we want to get them, we've got to do that. Those Liberians getting positions and getting high salaries are strong, experienced managers, recruited from corporations abroad. Their skills are desperately needed to build our country. Liberians should not criticise those who come home with the right skills to rebuild their country. We need them at home."
How will you gain trust in Liberia?
"I have trust in Liberia. I'm not talking about the noisy minority – that's just all part of transformation. I'm talking about a
satisfied majority who I meet in rural areas and who are pleased that their lives have changed, their incomes have increased and they're getting better services.
"We accept the criticism and the comments. We also accept the adulation and the praise. That's part of moving ahead in a democratic society where all rights are respected and protected. Liberia is making progress and the majority of the Liberians and the international community is quite aware and recognizes that."
Ellen Johnson Sirleaf visited the Netherlands to receive an Honorary Doctorate Degree at Tilburg University on 9 November.