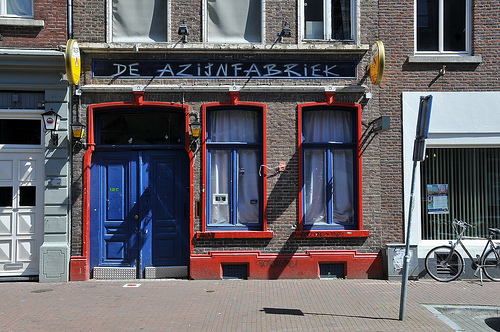 Wat was je lelijk en wat was je klein. Met bobbelige grauwe muren en je cafe als een voetbalkantine. En dan was je nog gehandicapt ook, jij popzaal zonder kleedkamer met je krakende versterkers en je beperkte licht. Maar ik was verblind door liefde, tomeloze liefde voor jou, mijn naar Rock en Roll en grote stad riekende hok aan de Zwartbroekstraat.
Het sodom en gomorra van Roermond, zo werd er over je gesproken. Jij was de slet die het, onder invloed van wiet of wat dan ook, met iedereen deed: de te laat geboren hippie, de eenzame kraker of de tresjer met kettingen aan zijn broek.
Je deed het zelfs met mij, wiens smaak je misschien een tikkeltje glad vond. Ik had niet zoveel met grindbak herrie en drie akkoorden punk, daar was ik te funkie voor. Jij oordeelde niet. Op straat was ik een 'vieze voele interne oet huilandj, manne.' Jij vond dat prima. Binnen de muren van de kostschool heerste wederzijs onbegrip in vrede. Maar jij had net als ik niets met dure auto's, villa's en de zakenwereld.
Alleen bij een select groepje vrienden en bij jou vond ik wat ik zocht. Jij Azijn waar we met bezweette lichamen tegen elkaar aangedrukt van Bettie Serveert en Gotcha! genoten maar ook de plek waar ik met vijf andere vrijwilligers en drie betalende bezoekers Daryll-Ann zag. Ik haalde trots lege glazen en boende midden in de nacht je vloer alsof het heilige grond was.
De mogelijkheden waren eindeloos. Ik schreef, stijf van spelfouten, je eerste programmaboekje aan elkaar. Ik experimenteerde met avondjes waar ik theater en muziek samenbracht. Ik waagde het zelfs om met het 'Dellen en Machobal' een alternatieve vasteloavendj te organiseren. Maar dat was niets voor jou zo bleek.
In de 'Aek' kon veel, maar het mooiste was met ons rammelige bandje op jouw podium staan. Met warme lampen vlak boven je hoofd en onze puberige vriendinnetjes als groupies voor het podium, was het net echt. Na afloop werden we zwevend dronken: dit was slechts het begin, wisten we. Pinkpop zou later vanzelf volgen.
Azijn, ik heb toen echt gedacht je eeuwig trouw te blijven. Maar ik moest verder, verliet Roermond en kreeg een nieuwe vriendin. Maar soms op een onbewaakt ogenblik in de Grand dame van popmuziek Paradiso, voelt het nog alsof ik vreemd ga. Ja, vergeleken met jou, Azijn, is Paradiso een waanzinnig mooie en volwassen prinses maar jij, lieve Azijn jij was mijn eerste cluppie. En eerste liefdes vergeet je niet. Ook niet als ze er niet meer zijn.
Foto: FaceMePLS